In bed: Skippy Peanut Butter (TM), Ritz (TM), Gatorade (TM), phone, laptop, wood tray.

Your turn
Beside my bed: Devil's Garden - Stewart Lee Allen, Strip Tease - Carl Hiaasen, Junkie - Burroughs, Hell's Angels - Thompson, Skipping Torward Gamorrah - Dan Savage, 2 issues of Saveur, Kids in the Hall Season 1, overturned lamp not on a stand, empty Spire Cider bottle, cup with napkins in it, 2 lighters, pack of cigerettes, face lotion, leather wrist cuff.
Current Location:

bed

Current Mood:

sick

Current Music:

Modest Mouse - Parting of the Sensory
inklink time
EDIT: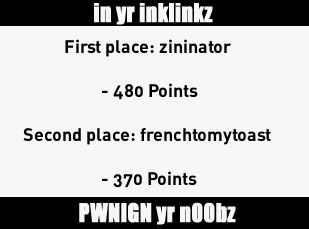 i'll change the layout soon and fix broken links.. but now it's
desperately want my company, I'll come...anyway, I'll talk to you guys later.
So. I don't know if I'm going to be able to make it tonight. there's a 90% chance I just scored a free ticket to see Bowie at Key Arena on Wednesday. Understand: While I value your friendships, we are talking FLOOR TICKETS to BOWIE--FREE. I'll call you guys as soon as I know. And if you


HAPPY BIRTHDAY MIKE!@#(#@)(!!

phill, if i dont get to talk to you tonight, call charles' cell tommorow. we're leaving his house for the ferry right when he gets back from class, so i figure i'll be seattle side 2:30-3.

we'll call when we leave too, though.
charles hates it when people log him out on ELJAY, so like, this is zin.. anyway..
Current Mood:

sleepy

Current Music:

emperor's club
Current Music:

Jawbreaker - Jet Black
HERE TAKE THIS PACKAGE OF MONEY I HAVE WRAPPED NICELY FOR YOU uh.... something something... CHINESE GOD DAMN EGG ROLL
Current Mood:

dorky

Current Music:

Jawbreaker - Condition Oakland
Did I let someone borrow my Trainspotting book? I can't find it.
You're one for handcuffs, as long as you're the one with the key
When it comes to power exchange, you are straight up dominant
You weild the power all on your own- and your cuffs only re-enforce that.
You're so in control that you could cuff and gag the toughest street cop.
What Kind of Handcuffs Are You?
More Great Quizzes from Quiz Diva
Current Mood:

I just woke up don't ask

Current Music:

EAT QUIZNOS SUBS


Hi guys
I'm undeleting my journal.
Current Mood:

Done

Current Music:

Dead Boys - Sonic Reducer